5-Night Umphang Trekking Tour from Bangkok
Asia » Thailand » Central Region » Bangkok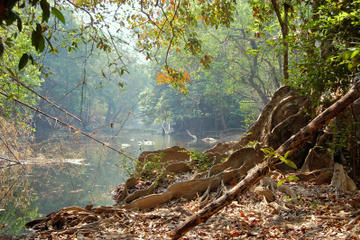 (5.0)
Duration: 6 days
Departs: Bangkok, Thailand
Price from USD 310.54
Book Now
Travel from Bangkok to Thailand's Umphang district, near the border of Myanmar (Burma), for a jungle experience that includes three days of trekking through the tropical forest. You'll go rafting on the Mae Klong River, swim at the bottom of Thi Lo Su waterfall, stay overnight in a Karen hill tribe village, and round up the village elephants with their handlers. You'll also visit towns like Umphang and Mae Sot, a great way to experience rural Thailand. This small-group guided tour is limited to 10 people and is designed for physically fit people who don't mind roughing it.
This action-packed trekking tour and cultural adventure includes three days of hiking through mountainous jungle terrain at a moderate level of difficulty. As you must carry your own backpack and belongings, a decent level of fitness is required to participate.

Accommodation includes one night at a homestay in a Karen hill tribe village, where living conditions are basic. You'll also spend your nights on an overnight drive by luxury bus, a campsite in Umphang Wildlife Sanctuary, a simple hut and a local guesthouse. You may store any extra luggage during the trekking portion in order to lighten your load.
« All Activities