Bangkok Food Tour
Asia » Thailand » Central Region » Bangkok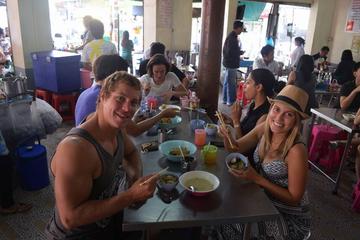 (5.0)
Duration: 3 hours 30 minutes
Departs: Bangkok, Thailand
Price from USD 34.19
Book Now
This Bangkok food walking tour serves up fifteen tastings of delectable Thai dishes and drinks! Follow your entertaining guide to hidden culinary gems in the historical neighborhood of Bang Rak, the 'village of love,' as you discover the community and its cuisine. Stop at food stalls as well as a wet market, grocery, sweet shop and a royal Thai restaurant. You'll sample handpicked specialties, savory bites and sweet treats that satisfy your palate with authentic Thai flavors. Limited to 10 people, this small-group tour provides a personalized experience.
Meet your guide at Saphan Taksin BTS Station in the morning and start out on foot through the Bang Rak district of Bangkok. Meaning 'village of love' in Thai, Bang Rak is a popular neighborhood for couples to register their marriages, but the area also serves up a delectable selection of tasty bites. You'll stop at approximately eight venues for 15 tastings, so be sure to arrive hungry!
From the skytrain station, stroll through Bang Rak's backstreets to hidden gems. Visit a nearby street vendor selling curry puffs to sink your teeth into. Around the corner lies the Bang Rak Bazaar were you can sip Thai iced tea or coffee en route to a stall selling curry paste.
Learn about this culinary staple and discover ancient regional recipes before heading to Bangkok's second oldest wet market, which features a wide array of meat and produce. Bite into a sample of Thai fruits and discover a range of tropical tastes as you master the art of fruit selection.
With a small group you'll gain intimate knowledge of the neighborhood's history, culture and cuisine from your experienced guide, including a stop at a local Chinese grocery, located in a traditional shophouse. Try Chinese herbal drinks with unique medicinal properties, followed by a visit to a nearby roast duck stall. At this family-run establishment started in 1909, share plates of fried and roasted chicken noodles topped with egg.
Walk down narrow winding lanes to a traditional Thai sweet shop and enjoy five treats from a scrumptious dessert platter. Just save some room for som tam (green papaya salad) at a favorite local eatery that specializes in more than 20 different varieties. Try a couple of versions as well as larb, a delicious minced meat salad from northern Thailand.
Get a taste of flavorful Thai curry at your last stop: a traditional royal Thai restaurant run by descendants of the royal family. Savor regional flavors and learn how the spicy tastes of Thai cuisine are properly mixed together.
Your tour ends at an easily reached BTS Station, with your guide on hand to provide directions to your next destination. After experiencing first-hand the sights, smells and flavors in the heart of Bang Rak, you'll have the confidence to explore on your own from here.
Please Note: Participating venues and menu items may be substituted due to seasonal and/or unexpected circumstances on any given day.

« All Activities