Sala Rim Naam Dinner and Show at Mandarin Oriental in Bangkok
Asia » Thailand » Central Region » Bangkok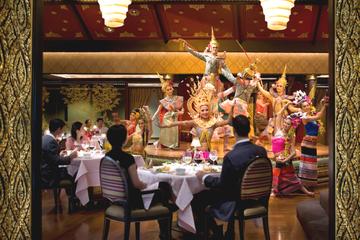 (5.0)
Duration: 3 hours
Departs: Bangkok, Thailand
Price from USD 108.40
Book Now
Ferry across the Chao Phraya River aboard a teak boat for an entertaining evening of delectable Thai food and a vibrant cultural show! Enjoy delicious dishes with a set dinner, featuring classic Thai fare, at the Mandarin Oriental Hotel's Sala Rim Naam Restaurant in Bangkok. Watch dancers perform onstage, including classical Thai dances, mock battle scenes and beautiful folk dances as you dine. Enjoy transport in a private vehicle with your choice of accompaniment by a knowledgeable guide (if option selected).
After pickup from your hotel by private van or car, transfer to the legendary Mandarin Oriental Hotel – one of Bangkok's finest luxury hotels where visitors have been staying for more than 135 years.
From here, take a short ferry ride on a Thai-style teak boat across the Chao Phraya River to the hotel's famed Sala Rim Naam Restaurant. If you'd like, a private guide will escort you directly to the venue and assist with any questions you have (if option selected).
Enjoy a set menu (see sample below) of classic Thai dishes in an elegant dining atmosphere. Admire the ornate décor of the Thai-style pavilion with its high ceilings, pitched roof and polished teakwood resembling a Thai temple, or wat.
As you dine, enjoy an approximate hour-long cultural performance on stage, including classical Thai dances, mock battles and scenes from popular Thai folklore. Admire the elaborate costumes and stylized movements of the graceful dancers as they perform. Against this charming backdrop, where riverboats travel up and down the Chao Phraya River, you'll enjoy your lavish meal and dazzling entertainment!
Sample Menu:
Lon phu talay: Crabmeat cooked in coconut milk
Yaam talay: Spiced seafood salad
Mussamun nuea: Southern-style beef curry with sweet potato and onion
Goong phad prig daeng: Fried prawns with garlic and red chili sauce
Khanom jeeb Thai: Steamed Thai dumplings filled with herbed minced chicken and peanut
« All Activities